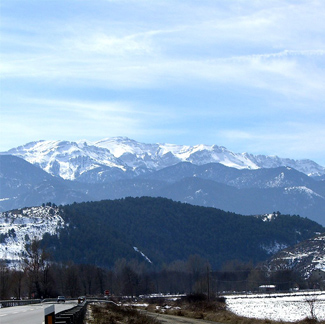 The Ermitatge de Quadres is located right in the northernmost county of Catalonia: Cerdanya, a Pyrenean valley that stretches from east to west instead of north to south, as is usual. The main peaks that guard the valley are the Carlit (2922m), the Portelleta (2916m), the Puigpedrós (2913m) and Puigmal (2909m). The majestic open spaces at their feet make this valley unique in the Pyrenees and across Europe.
Cerdanya also enjoys a unique climate, with many hours of sunshine. It hosts several protected natural parks which offer great opportunities for lovers of mountain sports, hiking and richly varied nature. Cerdanya is a pioneer in the creation of skiing facilities, and its variety of Alpine and Nordic ski- stations make it one of the winter sports destinations of choice.
Its colourful, intense history is due to the peculiar administrative division in 1659 which divided the county between the kingdoms of Spain and France. The north - Upper Cerdanya - is part of the French 'Pyrénées Orientales'; the south - Lower Cerdanya - is one of the 41 counties that currently comprise Catalonia, where at times it has been divided between the provinces of Girona and Lleida.
Today, tourism is the main economic activity, although livestock and agriculture are still important industries for its inhabitants.