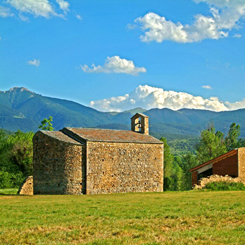 Hospitality and relaxation are a tradition and a passion for the surroundings of l'Ermitatge de Quadres (EdQ). For centuries, many travellers passing through this land have enjoyed this area of remarkable lodging, cultural activities and rest attached to the chapel.

Today, on the ancient stones of the 'domus hospitalaris' or inn, rises the new hotel-restaurant Ermitatge de Quadres. A space both modern and dignified, it offers eight comfortable rooms for 2 to 6 people, a cosy, restaurant with two open fireplaces, gentle piano music and a heated outdoor lounge for those who appreciate good conversation.

After your virtual tour of this website we hope that you will pay us a visit in person. We're only 10 minutes from the Cadí Tunnel and 15 minutes from Puigcerdà. There is ample on-site parking.

For questions or to make your reservation, don't hesitate to contact us directly. We will be happy to assist you!

We look forward to seeing you soon!